LANDYBRIDAL TREND 2016
9:26 PM
I've written a lot about Wedding Dress in my blog before, but this time let's talk about what kind of wedding dress that might be trend in 2016. After gathering some information from many articles, and referring to the article of Harper's Bazaar, Layer of Lace still make it in on the list! Many designers put Chantilly lace on top of embroidered tulle and Swiss dot lace for mind blowing texture and detail. I've seen this before in Chelsea Olivia's wedding dress a few weeks ago, her dress was created by the magical hand of Hian Tjen. Ah! Talk about Chelsea's dress, I'm sure it was not just me who wants to wear that dress in our wedding ceremony, right? Don't worry, If you are going to get married next year, her dress was forecast to be trend in 2016.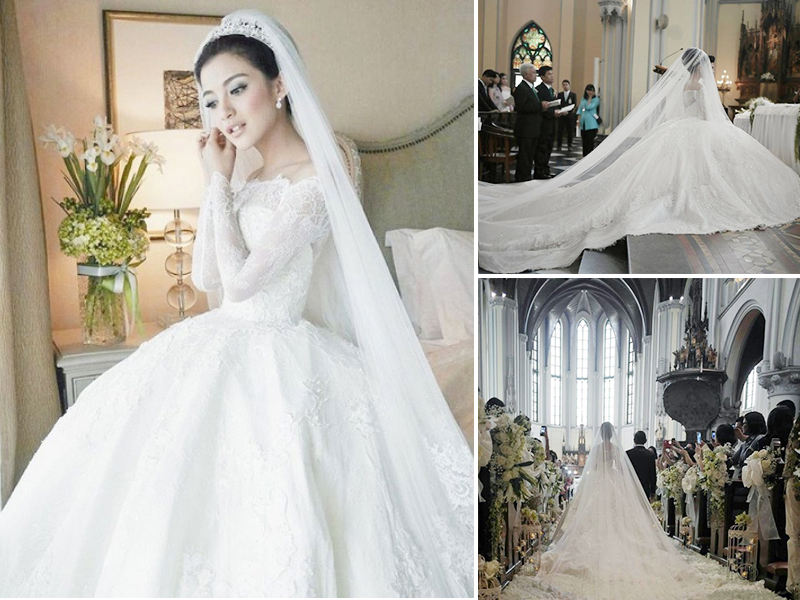 Chelsea Olivia Wedding Dress from Hian Tjen ( credit : weddingku.com )


Everyone amazed by Chelsea's wedding concept, no one doesn't! Are you guys still remember
Landybridal
? Well, They are the master of Lace and Embroidered Wedding Dresses in the world! If you dream of wearing Chelsea Olivia wedding dress, you can find one in Landybridal
vintage lace wedding dresses
collections like this one :
It does look a like, right?
The Dipped V Neckline also in the list of 2016 Bridal Fashion Trend. Can I find this kind of dress in Landybridal? Of course! Landybridal also provide 2016 Bridal Fashion Trend in
wedding dresses 2016
section. Like the dress below :
There still a lot of wedding dresses type on the 2016 Bridal Fashion Trend, such as Cropped Top, Feather Finish, Floral Prints, Stones Washed Shades, Suits, and many more. But I'm only focusing on the lace material. So, If you curious about more wedding dresses trend in 2016, you can find it in Landybridal Wedding Dresses 2016. To end today's article, here's my last pick from Landybridal that also on the list of 2016 Bridal Fashion trend :
Call : 0086-512-66168390
Email : service@landybridal,com
Skype : info8_landybridal
Monday - Saturday, 10AM to 7PM (GMT+8)